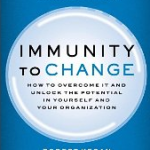 If you find change hard, you may yet underestimate how powerfully strong is the pull toward non-change.  As good as our intentions are, we don't realize how strongly we hold onto competing commitments that prevent us from making real and lasting change. It's as if we have an immunity to change.
Some of my coaching clients have brought up some goals they'd like to work on for the New Year. I personally find this a good time of year to review goals and pick one to work on a little more intensely than usual. So I went back and read a few of my favorite books about achieving goals.
One of the best is How the Way We Talk Can Change the Way We Work; Seven Languages for Transformation by Robert Kegan and Lisa Laskow Lahey (Jossey-Bass, 2002). In this book they first introduced the concept of competing commitments.  They brought out a sequel in 2009, and it's even better! It's got one of the best grids for planning out a goal I've ever seen.
Immunity to Change: How to Overcome It and Unlock the Potential in Yourself and Your Organization, Harvard Business School Press, 2009. Here are a few comments and endorsements:
Review
…brilliant insights into the mysteries of the change process at the heart of personal and organizational success…Any leader seriously interested in developing new strengths in others — and in oneself-needs to read this book. –Daniel Goleman, author, Emotional Intelligence

Immunity to Change is a wonderfully original approach to a familiar problem: why many crucial change efforts fail. It shows how the core problems of resistance to change stem from the critical gaps between what is required and a leader's own level of development. I know of no book that does a better job of helping leaders understand the commitment to change and how to put it into practice. –Peter Senge, author, The Fifth Discipline, and coauthor, The Necessary Revolution

Not being able to change doesn't mean we're lazy, stubborn, or weak. A pair of Harvard educators (Lahey and Kegan) argue that our best-laid plans often fall through for smart, self-protective (and ingeniously
hidden) reasons. –O Magazine, December 2008
I highly recommend reading this book. It's full of examples both from individuals and organizations and teams. They suggest you pick "One Big Thing" you'd like to work on changing and write it down. Next to it, write down what you're doing or not doing that stops you from realizing this goal. (This is where it starts getting interesting!)
In a third column write down what you worry about, and some of the reasons you do things that go against completing your One Big Thing. These are all the things that draw us away from successfully changing. These are our competing commitments.
This is why change is so hard, because while we want this One Big Thing, we have other things that also compete for our attention. These are self-protective in the sense they keep us from worry and fear. Try writing down a few of your competing commitments and you'll understand why change is hard.