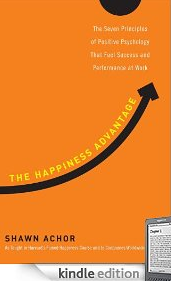 From what I've been reading lately (The Happiness Advantage, Shawn Achor), our brains are literally hardwired to perform best when they're positive. Yet how many of us hunker down with grit and determination when we've got important tasks to accomplish? Maybe we need to laugh and smile more.
For example, doctors who are put in a positive mood before making a diagnosis show almost three times more intelligence and creativity than those in a neutral state, and make accurate diagnoses 19 percent faster.
Optimistic salespeople outsell pessimistic colleagues by 56 percent. Students primed to feel happy before taking math achievement tests far outperform their neutral peers.
When we have tasks to accomplish we take the term "hard work" literally. We keep our noses to the grindstone so closely it hurts. Maybe instead of trying so hard, we should relax and be happy first. Get in a great mood, then go do some work.
The research being done by positive psychology in the last 15 years is incredible, yet much of it isn't being applied in the place where we spend so much time: at work. Hopefully that will start to change as more books are being published (Positivity, Flourish, The How of Happiness, etc.)
There's a meta-analysis of nearly every scientific happiness study available, over 200 studies on 275,000 people worldwide, that's been released. The findings are clear: happiness leads to success in nearly every domain, including work, health, friendship, sociability, marriage, creativity, and energy.
Other studies have shown similar results on tax auditors, investment bankers, lawyers, and business teams. One study of CEOs showed that positivity training could boost their productivity by 15 percent, and how managers improved customer satisfaction by 42 percent.
Briefly, here's what these groups of people are taught in order to reduce stress and to raise their levels of happiness and success:
How to develop a positive mindset
How to build up their social support networks
How to buffer themselves against negativity
Despite the amazing results in positive psychology, these incredible findings are almost unknown.
Maybe there's a stigma attached to positive thinking and happiness. What comes to mind? That silly smiley face and the song "Don't worry, be happy."
Maybe most of us think we're pretty positive already. We are: most people score around a 2 to 1 positive to negative ratio. But it's rare to find people who have a 3 to 1 ratio of positive to negative thoughts. And that is the tipping point between average and flourishing.