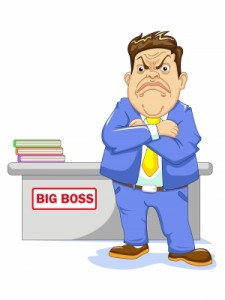 What kinds of things could you stop doing, that would make you more effective as a person and as a business leader? Quite often bad leadership can be immediately improved by simply stopping bad communication habits.
"We spend a lot of time teaching leaders what to do. We don't spend enough time teaching leaders what to stop. Half the leaders I have met don't need to learn what to do. They need to learn what to stop."  —Management expert Peter Drucker
Almost everyone keeps a "to-do" list. We often begin the New Year with resolutions to start new regimes to make us healthier, wealthier, and, hopefully, wiser. What's needed is a "to-stop" list of bad leadership habits, when it comes to communicating and interacting with our peers, colleagues, direct reports and even family members.
Here's an interesting blog post over on Inc..com: Be Happier: 10 Things to Stop Doing Right Now, by Jeff Haden. It's one of those lists I wish I had thought of, and I'm sure you can relate:
Blaming - Every time we have a problem, we look for someone or thing to blame. And we don't spend enough time looking at what we could have done differently. Taking responsibility when things go wrong instead of blaming others isn't masochistic, it's empowering. Bad leadership spends more time on blaming than solving the problem.
Impressing - People don't like you for your car, your degree, your money. Genuine relationships make you happier, and you'll only form genuine relationships when you stop trying to impress and start to be yourself.
Clinging - Holding on to what you think you need won't make you happier; letting go so you can reach for and try to earn what you want will.
Interrupting - Interrupting isn't just rude. When you interrupt someone, what you're really saying is, "I'm not listening to you so I can understand what you're saying; I'm listening to you so I can decide what I want to say." Listen to what they say. Focus on what they say. Ask questions to make sure you understand what they say. A sign of bad leadership is interrupting with all the answers.
Whining - Your words have power, especially over you. Whining about your problems makes you feel worse, not better. If something is wrong, don't waste time complaining. Put that effort into making the situation better.
Controlling - The only thing you really control is you. If you find yourself trying hard to control other people, you've decided that you, your goals, your dreams, or even just your opinions are more important than theirs. Bad leadership means over-controlling because you don't trust your people.
Criticizing – Everyone is different: not better, not worse, just different. Appreciate the differences instead of the shortcomings and you'll see people–and yourself–in a better light. Find your people's strengths instead.
Preaching – Criticizing has a brother. His name is Preaching. They share the same father: Judging. The higher you rise and the more you accomplish, the more likely you are to think you know everything–and to tell people everything you think you know.
Dwelling – The past is valuable. Learn from your mistakes. Learn from the mistakes of others. Then let it go. The past is just training; it doesn't define you.
Fearing – Don't let your fears hold you back. Whatever you've been planning, whatever you've imagined, whatever you've dreamed of, get started on it today. Today is the most precious asset you own–and is the one thing you should truly fear wasting.
I'm convinced that all of these bad leadership habits aren't that hard to stop doing. The problem is that you've got to stop doing them again and again…all the time. Every day. With each conversation. What do you think?