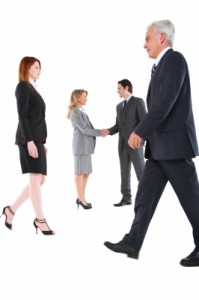 Forming first impressions accurately can be essential in business meetings, especially in sales. But making poor snap judgments because of unconscious biases can be disastrous.
The idea of "thin slicing" — sizing someone or an event up in the first two seconds — became popular with the publication of Malcolm Gladwell's book Blink: The Power of Thinking without Thinking. That expression, "thin slicing" was coined in a 1992 article by Nalini Ambady and Robert Rosenthal in the Psychological Bulletin. (Photo: FreeDigitalPhotos.net)
Thin slicing is used to describe people's ability to detect patterns in an event even if they only experience a narrow portion of that event. The concept is not new. Psychologist Gordon Allport (1937) claimed people can make broad generalizations about the personalities of others based on limited exposure.
But the term really became popular with Gladwell's Blink. He claimed that in the first two seconds of looking — in a single glance — you can tap into the power of thin slicing. And if you master those first two seconds, you can be an expert in every aspect of life.
The key to the concept is that we reach a conclusion even though we don't have the full picture. Thin slicing is driven by the unconscious system because it takes the lead over the conscious mind in decision-making during a short period. This has a tremendous impact in business meetings, especially for sales and with new introductions to people.
But hold on there. If we look at all the experiments and studies, thin slicing is almost never about just two seconds. Some of the studies reported using half a minute, five minutes, and even several days of extensive interviews (John Gottman marriage studies).
If we are judging whether someone is dangerous, our brains and bodies are wired to react very quickly, within milliseconds. This can have disastrous (or life-saving) consequences. A recent example is the senseless shooting of stranger (of a different race) by a neighborhood vigilante.
My point is we assess race, gender and age in a fraction of a second. We even assess sexual orientation in milliseconds, with varying success.
For other questions, such as judging personality or leadership skills, our first impressions often fail us. We need more time. People aren't always who they seem to be based on first encounters. And when it comes to worker/boss relationships, each encounter colors our opinions. Once we jump to conclusions, it's fairly difficult to create a new impression of someone.
We easily get stuck in our conclusions by looking for supporting evidence and ignoring contradictions to our first impressions. We pride ourselves on our intuitions about people. It's hard to back track and change opinions.
While our automatic processing is powerful, it is dangerous. We are hardwired that way and prone to making judgments we end up being stuck with. Have you ever had to back track?