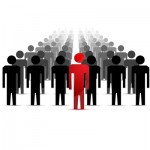 As I read through the many comments about leadership and managing younger generations on LinkedIn, I'm reminded of that old French saying, "The more things change, the more they remain the same." The younger employees are different, and workplace attitudes are changing, but they've always been changing. (Image by digitalart, freedigitalphotos.net)
Leaders and managers have always had to deal with young workers, new technologies, different fashions, new expressions of language. Older more experienced people in leadership roles know that, why are they surprised?
Let's face it, leadership is hard and managing people well is a challenge. In the work I do coaching managers, I find that many struggle to be the best leader they can be, to bring out the best in their people, based on what they've known and learned and experienced themselves. And just when they think they've got a handle on how to deal with their employees, along comes a new generation that challenges the way things have always been done.
Let me ask you this: What percent of effective leadership competencies remain the same, regardless of all other variables including generational diversity? Regardless of industry, of company situation, of any other details? Are there common rules for leading people and companies?
I want to know what you think about this important topic. Because the work force is changing, being made up of more younger people each year. Is leadership changing, or should it be? Are you keeping up with what's needed in order to be an effective boss?
One book (The Leadership Code) surveyed leadership thought experts on this question. They estimated that somewhere in the range of 50 to 85 percent of leadership characteristics were shared across all effective leaders. That's a broad range but it was consistent. The same competencies for leadership are cited in 85 percent of competency models.
Which means that experts agree that there are clear skills for effective leadership. But there are also some variables that these models do not account for, including a leader's personal situation and internal influences such as family, competition, social drives, health, energy, resilience, effort, ambition, and willingness to sacrifice.
All these variable factors influence how a leader shows up on the job, and greatly affect their ability to lead well. But the rest of the skills are pretty clear and defined for leading well.
Leadership competencies are evolving but they remain consistent. The contexts may change, but the need for strong core values remains even more crucial. What do you think?