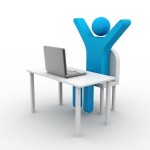 The evolution in workplace attitudes may be due in large part to the way computers and technology have affected our brains. Think about it: the newer generations began using computer games and digital technologies at early ages. It's bound to have had a huge affect on how they learn, communicate and behave. (Image credit jscreationzs, freedigitalphotos.net.)
Some people call the new generations "Generation G" — which refers to games. When you've been brought up on computer games, your brain is different. A great TedTV video explains this well:  Gabe Zichermann on How Games Make Kids Smarter.
Zichermann goes as far as to conjecture that digital games contribute to why IQ scores are going up every year. But the most outrageous statement he makes is that kids exhibit ADD behaviors in school because the classrooms are too slow compared to the stimulation provided by digital games. Life itself is too slow when you're used to instant rewards on screen!
Facetiousness aside, he has a point. What could teachers do to make classroom learning more like digital games? One teacher devised a curriculum using computer games and in 18 weeks, the level of math and reading skills went from below 3rd grade to mid-4th grade.
Which brings up an interesting point… how can we manage performance at work using motivational techniques from games? Is it even possible? Well, yes, of course, and it's already being done. It's called gamification and there's a page on Wikipedia that explains::
Business applications for gamification are just beginning to appear as well. RedCritter Tracker incorporates gamification elements such as badges, rewards, leaderboards and ribbons into project management. Gartner Group predicts gamification will be a key trend that every CIO, IT planner and enterprise architect must be aware of as it relates to business.
One study by Teresa Amabile and Steven Kramer in their recent book The Progress Principle: Using Small Wins to Ignite Joy, Engagement, and Creativity at Work showed that knowledge workers are sensitive to managers' recognition of small wins and progress, and respond well when that happens. They become even more motivated and collaborative as a result of rewards for progress.
Think about how certain computer games stimulate your thinking and problem solving abilities… and how progress bars encourage you to complete a level in order to move on the the next. Before you know it, hours have passed and you've devoted focused mental energy. Which is what managers would love to see at work, right?
We're already beginning to see gamification in marketing efforts by certain companies. Will we start seeing the gamification of managerial practices? What do you think?