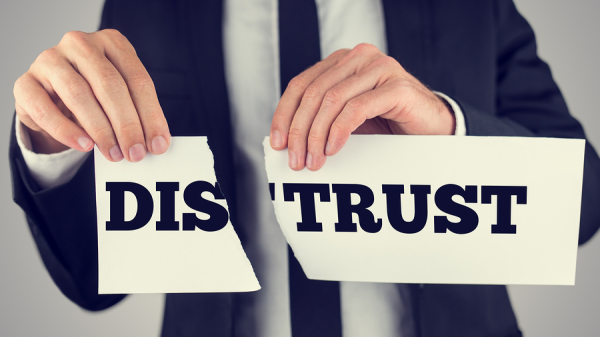 Trust is the foundation for executive presence. Last week I shared with you a blog post about the trust equation, from the book The Trusted Advisor by Maister, Green and Galford (New York: First Touchstone, 2000.) I love this equation because it takes a concept as nebulous as trust and makes it real by attaching numbers to rate the quality of each factor:
Trust = Credibility + Reliability + Intimacy
Self-Orientation
In other words, use an example of a relationship with a subordinate or a team member, one you deal with on a regular basis. Give each factor a rating from 1 to 10.
How much credibility do you have with this person?
How much reliability is there between you two?
How close, open and honest are you with each other?
Add up the three numbers. Next, rate your degree of self-orientation, how much of yourself you insert into your conversations. Are you pretty much self-oriented, focusing on what you think and you want the person to do? In the case of a direct supervisor, you may rank as highly self-oriented because of the purpose of your job. Or, if you have a more coaching leadership style, so you may rate yourself with lower self-involvement as you encourage the other person to come up with solutions.
Take that self-orientation number and divide it into the sum of the other three factors. In their study, the authors showed that a "5" equates to a long-standing trustful relationship while a "1.25" is a low trust score.
Raise Your Low-Trust Scores